Audiobooks / Psychology
---
Audiobook
Trouble with staff attitudes and commitment?
This book has been a top-ten business book in Sweden for more than ten years. Now it's available in English!  "How did you...?" Is a question Ingemar Fredriksson has heard many ti ...
---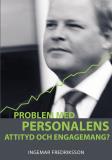 Audiobook
Problem med personalens attityd och engagemang?
"Hur gjorde du?" är en fråga Ingemar Fredriksson fått många gånger efter att ha vänt utvecklingen i ett nedläggningshotat företag från förlust till vinst på sex månader. Därefter u ...
---