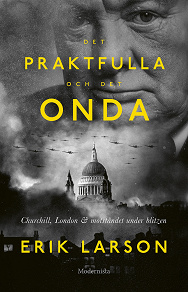 Isbn:
978-91-8023-469-6
Publisher:
Modernista
Category:
Memoirs & Biography
Accessible since:
March 2022
---
Det praktfulla och det onda
Hyllad skildring av Churchill, London & motståndet under blitzen
Vald till en av Årets bästa böcker av The New York Times, Time, Vogue, Washington Post, Chicago Tribune, New York Post, NPR och Bloomberg.
»Upplysande och fascinerande för dem som vill läsa om krigets aspekter utifrån annat än ren militärhistoria.« Betyg: 4 av 5 - Linus Björk, BTJ
»En perfekt bok för vår tid.« Time
Under Winston Churchills första dag på jobbet som premiärminister invaderade Hitler Holland och Belgien. Vid det laget hade Polen och Tjeckoslovakien redan fallit och två veckor senare evakueras Dunkerque. De följande tolv månaderna släpper Görings Luftwaffe lös sitt raseri över Storbritannien i en skoningslös våg av flyganfall som kommer att döda 45.000 britter och förstöra två miljoner hem. Churchills jobb var att hålla samman landet och samtidigt övertyga Franklin Roosevelt om att Storbritannien var en värdig allierad, redo att strida till slutet.
Med filmisk detaljrikedom och med hjälp av tidigare hemligstämplat material målar Erik Larson upp en livfull bild av hur Churchill mot alla odds lyckades ingjuta mod i sitt folk - av hur nationens mörkaste timma på detta sätt också blev dess »stoltaste stund«. Vi följer det storpolitiska dramat från vecka till vecka, men får även en unik inblick i den intrigtäta privatsfär som dolde sig bakom statsmannen Churchill. Sammantaget är Det praktfulla och det onda en verklig tour de force som sätter en av 1900-talets stora politiska ledare och hans agerande i ny blixtbelysning.
ERIK LARSON är en amerikansk författare som haft sex böcker på New York Times bestsellerlista. Det praktfulla och det onda tog sig rakt in på förstaplatsen när den kom ut i USA. Erik Larson har bland annat nominerats till en National Book Award och tilldelats en Edgar Award. Hans bok The Devil in the White City planeras att bli tv-serie med Leonardo DiCaprio och Martin Scorsese som exekutiva producenter, med Keanu Reeves i en av huvudrollerna.
»Erik Larson är en av USA:s stora historieberättare.« NPR
---