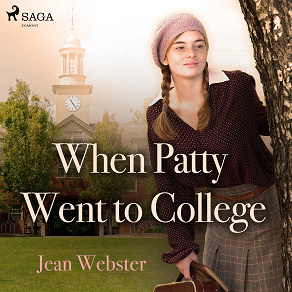 Isbn:
978-87-2647-282-0
Publisher:
Saga Egmont
Category:
Novels
Historic facsimile
Accessible since:
December 2021
Narrator:
Daryl Wor
Length: 3 hours 44 minutes
---
When Patty Went to College
The impetuous but nonetheless highly intelligent, street smart Patty Wyatt goes to a turn of the century, all-girls college where she studies here and there during whatever time remains after delivering scathing commentaries on dorm life, playing pranks on her friends and teachers, and, last but not least, soaring to the rescue of other girls in need. First published in 1903, Jean Webster's debut novel 'When Patty Went to College' is a witty yet strikingly authentic account of going to college in Patty's day and age, to be fondly treasured by anybody who holds their college memories dear to their heart.

If you enjoyed the 2012 musical comedy blockbuster 'Pitch Perfect' about a group of talented and free-spirited modern day college girls, starring Anna Kendrick, Brittany Snow and Rebel Wilson, you'll find this a highly fascinating and enthralling account of college girl life long before the advent of modern day pastimes.

Jean Webster was the pseudonym of Alice Jane Chandler Webster (1876-1916), who was an American writer. Her novels are marked by bitter dialogue and socio-political themes such as: eugenics and heredity, institutional reform, and women's rights. Webster herself was a suffragette, and as well as writing fiction, she also worked as a journalist. Some of her most famous works include: 'When Patty Went to College,' 'Daddy-Long-Legs' and 'Dear Enemy'.
Listen to sample
---