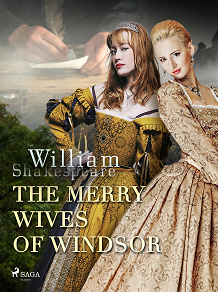 The Merry Wives of Windsor
Like any true ladies man, Sir John Falstaff, the fat king, attempts to seduce two wealthy women at the same time. To make things easy he decides to send ends Mistress Page and Mistress Ford identical love letters.

But little does Falstaff know that women tend to talk to one another, only causing him a great deal of trouble..

As Frank Ford hears of Falstaff's plan, he decides to test his wife's loyalty. By dressing up, Frank pretends to be someone else and pays Falstaff off to seduce his wife on his behalf. The men in Windsor desperately try to control the situation, however, it is the women of Windsor who pull the strings in this play.

This hilarious comedy by Shakespeare is a classic worth reading! First published in 1602, this play presents themes of marriage, wealth, jealousy and lies. Complete with clumsy men and strong women, this appeals to all ages.
For fans of Clare McHugh, Thomas Middleton and Julia Quinn.


William Shakespeare (1564-1616) is widely considered the world's greatest dramatist and is often referred to as England's national poet or the Bard. Most famous for his timeless plays, he also wrote a multitude of poems and sonnets. Shakespeare was the blockbuster writer of his day, his many works concerning universal themes of life, love, death, revenge, grief, jealousy, murder, magic, and mystery. Among some of his most famous are 'Macbeth', 'Romeo and Juliet', and 'Hamlet', but the list is long, and many continue to be studied and performed, both their original form and modern adaptations.
---