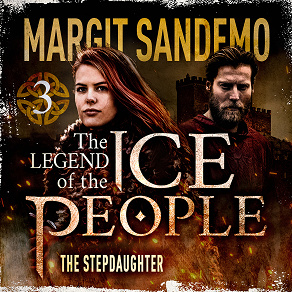 The Ice People 3 - The Step Daughter
The Legend of the Ice People series has already captivated 45 million readers across the world.
The story of the Ice People is a moving legend of love and supernatural powers, a tale of the essential struggle between good and evil.
Sol is a powerful witch who's ruled by a dark spirit – and a young girl who has to obey her parents. Finally, the day arrives when she's fully grown and free to unleash her powers. Her life, and those of all she loves, will never be the same.
As Sol journeys through Norway and Sweden, witch hunts threaten her at every turn. But the thrill of her powers, and the sensual call of The Prince of Darkness, drive her on. The Legend of the Ice People takes a dark and dangerous twist.
Margit Sandemo was born on 23 April 1924 in Norway. She was raised in Sweden but later moved back to Norway. She made her debut as an author in 1964.
Love and supernatural powers are the hallmarks of her authorship, and she is the best-selling author in the Nordic countries, with more than 39 million copies sold.
The Legend of the Ice People comprises 47 volumes.
Margit Sandemo died on 1 September 2018.
"Margit Sandemo is, simply, quite wonderful.'
- The Guardian
'Full of convincing characters, well estabished in time and place, and enlightening ... will get your eyes popping, and quite possibly groins twitching ... these are graphic novels without pictures ... I want to know what happens next.'
- The Times
'A mixure of myth and legend interwoven with historical events, this is imaginative creation that involves the reader from the first page to the last.'
- Historical Novels Review
'Loved by the masses, the prolific Margit Sandemo has written over 172 novels to date and is Scandinavia s most widely read author...'
- Scanorama magazine"
Listen to sample
---