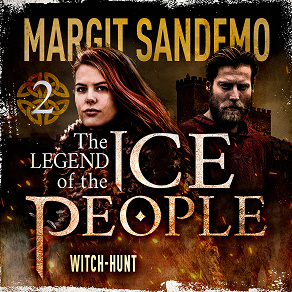 The Ice People 2 - Witch-Hunt
The Legend of the Ice People series has already captivated 45 million readers across the world.
The story of the Ice People is a moving legend of love and supernatural powers, a tale of the essential struggle between good and evil.
In the Valley of the Ice People, amid the beautiful mountains and meadows, Silje and Tengel are raising a family. But they're not like the others. Their lives are bound up with the legacy of an evil spirit and their daughter, Sol, has a frighteningly dark inheritance.
When old Hanna, an evil old witch, tells them of their fate, they don't believe her. It's not long though until they are forced out of the valley to the outside world, where witches and sorcerers are hunted down. How will they survive? And will the black magic that runs through their lives prove to be a blessing or a curse?
"Margit Sandemo is, simply, quite wonderful.'
- The Guardian
'Full of convincing characters, well estabished in time and place, and enlightening ... will get your eyes popping, and quite possibly groins twitching ... these are graphic novels without pictures ... I want to know what happens next.'
- The Times
'A mixure of myth and legend interwoven with historical events, this is imaginative creation that involves the reader from the first page to the last.'
- Historical Novels Review
'Loved by the masses, the prolific Margit Sandemo has written over 172 novels to date and is Scandinavia s most widely read author...'
- Scanorama magazine"
Listen to sample
---