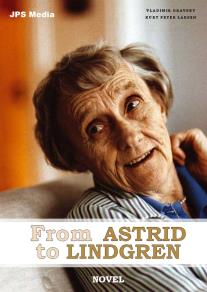 Isbn:
978-91-9846-343-9
Publisher:
JPS Media
Category:
Novels
Plays
In english
Accessible since:
March 2018
---
From Astrid to Lindgren
From Astrid to Lindgren is a dramatized and fictionalized depiction of the life of the subsequently worldfamous author Astrid Lindgren during the years that contributed the most to shaping her artistry
 
In this book her evolution to becoming  a strong and independent woman is depicted. She finds her place in this world and, who knows, maybe literary success is waiting around the corner.
 
From Astrid to Lindgren is written by the merited duo of scribes Vladimir Oravsky and Kurt Peter Larsen.This uncensored novel is based on Astrid Lindgrens life, as it is depicted in numerous books and articles by both authorized and self-appointed experts of Astrid Lindgren, as well as the authors interpretations of her own texts and books.  
 
Från Astrid till Lindgren – här i engelsk version - är en dramatiserad och fiktionaliserad skildring av den sedermera världsberömda författarinnan Astrid Lindgrens liv under de år som mest bidragit till att forma hennes konstnärskap.

Här skildras Astrids utveckling till en stark och självständig kvinna, som blev sin egen lyckas smed. Hon finner sin plats på jorden och, vem vet, kanske väntar även litterära framgångar runt hörnet...

Från Astrid till Lindgren är skriven av den meriterade författarduon Vladimir Oravsky och Kurt Peter Larsen. Denna roman bygger på Astrid Lindgrens liv och leverne, så som det skildras i otaliga böcker och artiklar av auktoriserade såväl som självutnämnda Astrid Lindgren-kännare, samt på författarnas tolkningar av Astrids Lindgrens egna texter och böcker.


---