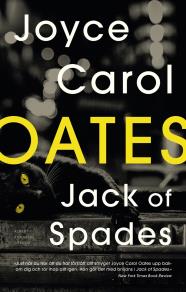 Isbn:
978-91-0015-667-1
Publisher:
Albert Bonniers förlag
Category:
Novels
Accessible since:
March 2017
---
E-book
|
28 days for loan
Jack of Spades
Den hyfsat framgångsrike författaren Andrew R. Rush börjar få spader av att stå i skuggan av Stephen King. Räddningen blir att under whiskyns påverkan och när resten av familjen sover förvandlas till den våldshyllande, misogyne och extremt hemlige pulpförfattaren Jack of Spades. En dag hittar hans dotter ett exemplar av Jack of Spades böcker och börjar ställa obekväma frågor. När en läsare i samma veva hör av sig och hotar att stämma Rush för plagiat tappar han besinningen och börjar snart agera som om han hade huvudrollen i någon av pseudonymens mest skruvade romaner.
Jack of Spades är en roman om begär, missbruk och självbedrägeri men framför allt en underhållande hyllning till noir-genren.

Översättare: Kerstin Gustafsson
---