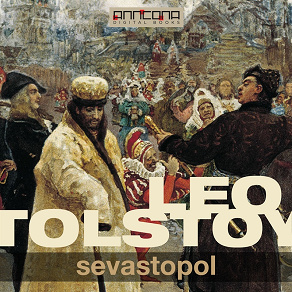 Isbn:
978-91-7605-565-6
Publisher:
Anncona Media
Category:
Novels
In english
Accessible since:
November 2015
Narrator:
David Wales
Length: 4 hours 53 minutes
---
Sevastopol
Sevastopol Sketches are three short stories written by Leo Tolstoy and published in 1855 to record his experiences during the Siege of Sevastopol (1854–1855) in the Crimean War (1853-1856). The name originates from Sevastopol, a city in Crimea. The book has also been released under the anglicized title The Sebastopol Sketches and is sometimes titled Sevastopol Stories. These brief "sketches" formed the basis of many of the episodes in Tolstoy's magnum opus, War and Peace.
In Sevastopol in December, Tolstoy uses second person narrative (with the pronoun 'you') in an introductory tour of life in Sevastopol. The detailed tour is arguably similar to one Tolstoy may have been given upon arrival in Sevastopol in November, 1854…. Tolstoy also uses Sevastopol in December to introduce the reader to the settings, mannerisms, and background he uses in Sevastopol in May and Sevastopol in August. For example, when referring to the enemy, either the British or the French, but only the French are featured in the Sketches; they are referred to as " 'him', as both soldiers and sailors say". 
In Sevastopol in May, Tolstoy examines the senselessness and vanity of war. The story examines many aspects of the psychology of war, heroism, and the misleading presence of humanism in truces (misleading because countries continuously go to war with one another, despite past truces). Tolstoy concludes by declaring that the only hero of his story is truth.
In Sevastopol in August, Tolstoy continues the analysis of the war and how it reflects on different characters and how the turmoil and challenges of war changes their views and behaviour.
Count Lev Nikolayevich Tolstoy; (1828-1910), also known as Leo Tolstoy, was a Russian writer who primarily wrote novels and short stories. Tolstoy was a master of realistic fiction and is widely considered one of the world's greatest novelists. He is best known for two long novels, War and Peace (1869) and Anna Karenina (1877). 
Tolstoy is one of the giants of Russian literature. His contemporaries paid him lofty tributes. Fyodor Dostoyevsky thought him the greatest of all living novelists. Later critics and novelists continue to bear testament to Tolstoy's art. Virginia Woolf declared him the greatest of all novelists. James Joyce noted that, "He is never dull, never stupid, never tired, never pedantic, never theatrical!". Thomas Mann wrote of Tolstoy's seemingly guileless artistry: "Seldom did art work so much like nature".
Listen to sample
---