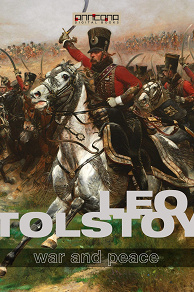 War and Peace
War and Peace is a novel by the Russian author Leo Tolstoy, first published in 1869. The work is epic in scale and is regarded as one of the most important works of world literature. It is considered as Tolstoy's finest literary achievement, along with his other major prose work, Anna Karenina (1877). The novel was first published in its entirety in 1869. Newsweek in 2009 ranked it first in its list of the Top 100 Books. In 2003, the novel was listed at number 20 on the BBC's survey The Big Read.

War and Peace tells the story of five aristocratic families—the Bezukhovs, the Bolkonskys, the Rostovs, the Kuragins and the Drubetskoys—and the entanglements of their personal lives with the then contemporary history of 1805 to 1813, principally Napoleon's invasion of Russia in 1812. The Bezukhovs, while very rich, are a fragmented family as the old Count, Kirill Vladimirovich, has fathered dozens of illegitimate sons. The Bolkonskys are an old established and wealthy family based at Bald Hills. Old Prince Bolkonsky, Nikolai Andreevich, served as a general under Catherine the Great, in earlier wars. The Moscow Rostovs have many estates, but never enough cash. They are a closely knit, loving family who live for the moment regardless of their financial situation. The Kuragin family has three children, who are all of questionable character. The Drubetskoy family is of impoverished nobility, and consists of an elderly mother and her only son, Boris, whom she wishes to push up the career ladder.

War and Peace is well known as being one of the longest novels ever written, though not the longest. It is actually the seventh longest novel ever written in a Latin or Cyrillic based alphabet and is subdivided into four books or volumes, each with sub parts containing many chapters.

The novel can be generally classified as historical fiction. It contains elements present in many types of popular 18th and 19th century literature, especially the romance novel. War and Peace attains its literary status by transcending genres.

This ePUB is an unabridged version. 562,579 words – 1,613 pages in the printed edition.

Count Lev Nikolayevich Tolstoy; (1828-1910), also known as Leo Tolstoy, was a Russian writer who primarily wrote novels and short stories. Tolstoy was a master of realistic fiction and is widely considered one of the world's greatest novelists. He is best known for two long novels, War and Peace (1869) and Anna Karenina (1877).

Tolstoy is one of the giants of Russian literature. His contemporaries paid him lofty tributes. Fyodor Dostoyevsky thought him the greatest of all living novelists. Later critics and novelists continue to bear testament to Tolstoy's art. Virginia Woolf declared him the greatest of all novelists. James Joyce noted that, "He is never dull, never stupid, never tired, never pedantic, never theatrical!". Thomas Mann wrote of Tolstoy's seemingly guileless artistry: "Seldom did art work so much like nature".
---