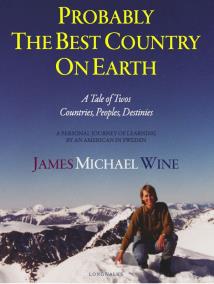 Isbn:
978-91-9796-951-2
Publisher:
Longwalks Productions
Category:
Memoirs & Biography
Accessible since:
November 2011
---
E-book
|
28 days for loan
Probably The Best Country On Earth
A new book by James Michael Wine takes you along a personal journey of learning that leads this American poet to stake out the claim that Sweden is probably the best country on Earth. Part cultural learning, part searching for ways for humanity to get through the next 40 years without collapsing under the weight of planetary challenges but whole and thriving. Part pure appreciation for a life of learning lived as an American who moved from down south to up north. Part chastising his own country for failing to do the right things, part admiration of Swedens leadership along with the admonishment to act upon the responsibilities of leadership that come with doing the right things right for the right reason. The parts add up to a whole (lot of ) learning. Wines journey crossed the paths of people as diverse as John F. Kennedy, Leonard Bernstein, Jan Eliasson, KG Hammar, Tomas Tranströmer, Hans Blix, Kofi Annan, Margot Wallström, Lena Endre, Barbara Hendricks, James Lovelock, Matthew Barzun, Liv Ullmann, James Hansen, Bill McKibben, Pete Seeger, and many other voices of our time. Along with tapping their insights and those of of his family, friends and colleagues along the way, Wine clings to the wisdom gleaned from poetry, music and art for guidance in coming to terms with our Nameless Age. Through lyrical clarities and concrete confusions, simplicities and complexities, love and sadness, lives and deaths, poetry and politics, science and spirituality, humor and high seriousness, the great outdoors and its stillness within Probably the Best Country on Earth is one writers personal journey to understand this moment on his planet and the momentous challenges never before faced by civilization.
Read sample
(Download)
---